---
Pirate ship
A colourful Pirate Ship playset with 3 pirates and 11 accessories. This traditional toy is handcrafted and makes a perfect gift.
Pirate skittles
A handcrafted wooden skittle set for a traditional game of bowling. A fun playtime game popular with little ones and adults, these skittles have fun pirate character designs.
---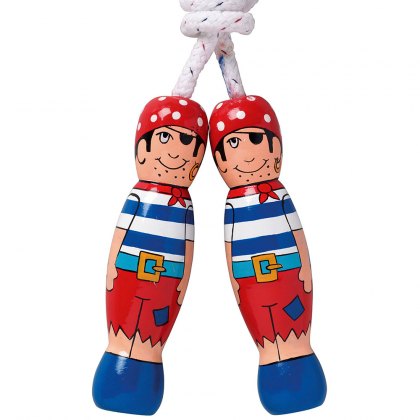 Pirate skipping rope
A traditional colourful skipping rope with handpainted pirate wooden handles. Little ones will love learning how to skip and jump!
---
Pirate
Lanka Kade's pirate wooden toys are handcrafted in Sri Lanka using non toxic paints. These fair trade toys include a wooden pirate ship complete with pirates, barrels and cannons, ideal for open ended, small world play. A fantastic birthday or Christmas gift to be treasured for years to come.